If you have ever hosted a party or been to a tapas bar or a local deli, then you might have come across cured meat. An old food flavoring and preservation procedure, this type of meat comes in different varieties across the world. This makes it a bit confusing for people to figure out what's what.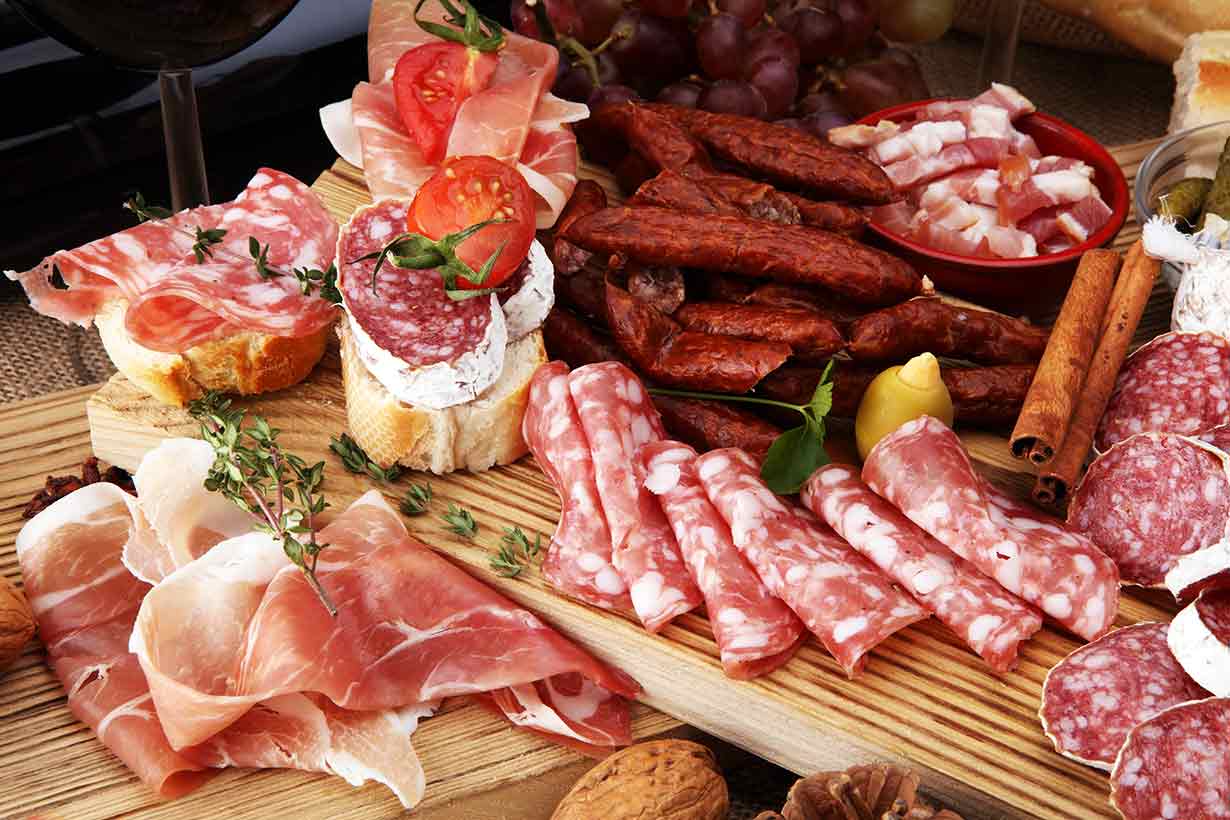 What Is Meat Curing?
Meat curing is a procedure where meat is preserved through drying, aging, salting, smoking, brining or canning. The main objective of this process if slowing spoilage and preventing the growth of different microorganisms. This technique dates back to ancient times when it was necessary to store meat in a safe way and to prevent food poisoning. Bacon is a common cured variety of meat that we eat in the present times. It is basically cured pork. Cured varieties of meat are a famous part of the Mediterranean diet and they often have an important role to play in antipasto and tapas dishes. Even though you already know prosciutto, salami, and jamon, there are other interesting varieties as well.
Prosciutto
It is made using the hind leg of pegs or the ham. It is both air-dried and salt-cured varieties and therefore it is completely safe to have it without cooking. It makes the perfect addition to charcuterie boards and salads. It is sliced thinly and is a bit chewy in texture. You can try making prosciutto appetizers for parties or prosciutto wrapped melons. This authentic Italian dish is the right blend of sweet and salty.
Salami
Salami is conventionally made using lightly ground pork or beef in combination with different animal fats and seasonings. These are later stuffed into delicious casings. The sausages are hung in controlled rooms where the fermentation procedure takes place. There are some varieties of salami that tend to be fattier and juicier than the other varieties. This is because they take more time to ferment. Nevertheless, this does not make one variety better than the other. So, go for the one that you prefer. Even better use it in sandwiches and charcuterie boards.
Spanish Chorizo
There are many people who are quite familiar with the Mexican Chorizo but odds are that you must definitely try Spanish Chorizo if you really like biting on them. It is made of pork and is generally spicy or sweet. The distinction between these two flavors comes from one main ingredient and that is paprika. You can make Spanish paella with this meat variety and highlight the spiciness of the chorizo.
Pepperoni
Odds are that you might have had pepperoni with pizza. Created by the Italian-Americans during the 1990s, pepperoni is a blend of finely ground pork or beef along with some seasonings for creating that slightly spicy and savory flavor we all seem to love. It can even be consumed uncooked. Many people like it roasted with the flavors getting stronger.
Cured meat varieties make the perfect meal when there is nothing much to bite on in your home and also when you do not have a lot of time in hand.